The Adventures of Fred and the Avenging Chicken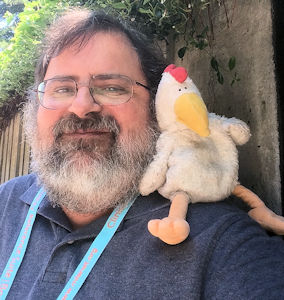 Welcome to the official page of Fred and the Avenging Chicken. No, I don't know how it got to be named the Avenging Chicken. My wife was going to Pocatello for a family event, and she told the chicken that she doubted that I would take it along. (She took the anteater to Pocatello.) The chicken gave me a long, imploring look from its little stuffed chicken eyes, and I couldn't resist. It started out as a one-time event: I took the chicken to a library conference and took pictures. People liked them, so I took the chicken to another library conference. Then another. My thanks to all the people who agreed to pose, and to the chicken for patiently accompanying me on our adventures.
Please note: Any opinions, either stated by me or inferred by you, are strictly my own, and do not necessarily reflect any opinions of my employer, co-workers, the avenging chicken or any of the people, squirrels, or other creatures shown in these photographs. The cat has his own opinions--very firm opinions--which he shares at full volume every time I get home. The dogs don't seem to care one way or another, but they're always happy to see me when I return from a conference.
Also please note: Yes, it's a fairly bare-bones site. Someday I might make it elegant. Probably not. Think of it as charmingly retro. >
Anecdotes, Facetiae, Satire
Poetry Inspired by my Experience as a Medical Librarian
worthy of Prostetnic Vogon Jeltz himself
In the course of my many years as a medical librarian, I've written a variety of poems, or, to be more precise, doggerel, on a variety of themes. Most of them were originally published on MEDLIB-L, the medical librarians' discussion group. Here they are in one place. All are released under Creative Commons: (1) You are free to reproduce these works at will without asking my permission. If you make millions of dollars off them, I'd appreciate it if you'd throw a few dollars my way. (B) Attribute them to me, Fred King, if feasible. (iii) If you make improvements, please send them to me at phred (at) phred (dot) us.
Handbooks, manuals, etc.
MarcEdit in Three Minutes (presented at MLA 2019)
Keller, Barone, Heimlich, King: Exploring the Wellness Behaviors of Health Science Librarians. Poster presented at MLA 2019. First Place winner in the conference's Presented Posters division.
Installing Koha on a Raspberry Pi 4. Slides from my presentation at koha-US in September, 2019. With notes!
Image for Koha on a Raspberry Pi (This link will take you to the koha-US Google Docs site.) The image is designed for a Raspberry Pi 4 with a 32GB SD card. It has been tested on systems with 2GB and 4GB RAM. To install, uncompress the 7-Zip file, then flash the image to the card. The readme.txt file has the username, password, and SHA 256 key. The filename gives you a pretty good hint, too.
Meet MarcEdit! My contribution to the koha-US 2020 Kohathon, a day of online presentations on all things Koha.
Koha for Nothing and your MARC for Free: How to use Koha, a Raspberry Pi, and Z39.50 to build an online library catalog. This was presented at the 2020 koha-US virtual meeting.
Got a Hundred Dollars? Get an ILS! The conference marking the 20th anniversary of Koha was held in October, 2020, in Wellington, New Zealand. I had hoped to present in person, but The Pestilence decided otherwise and I sent them a recording. This is similar to the presentation I did in 2019 in Pueblo, but completely pre-recorded, updated, and with some new jokes. The alert viewer will probably notice that this is my first complete video.
Installing Koha from the Ubuntu Command Line. Four months in the making! (Including time spent on finding and learning new software, rebuilding my computer, and adjusting the lighting.) Takes the user from the bare Ubuntu command line to the Koha Staff home page in under thirty minutes! Exclamation marks included!
Installing Koha from the Ubuntu Command Line: Scripts. Scripts? Huh? This explains what I'm talking about in the video.
CSV to MRC: how to turn your spreadsheet catalog into MARC records. Presented at the 2022 KohaCon in Lawrence, KS.